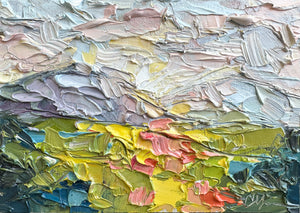 "Setting Light
$450
Size: 5x7 inches 
Media: High Quality Professional Oil Paint Applied with Palette Knife and Graphite 
Surface:  Stretched canvas on 1/2 thick light weight wood frame 
Finish: Varnished, Wired, Ready to Frame
**FRAMING IS AVAILABLE ** If you would like for me to frame your painting, please choose from the frames here. I recommend a plein air style frame for this size to extend the overall size of the painting. Please reach out to me if you would like to consider other framing options. These are available upon request only. If you would like the size to stay close to the actual size of the painting, I recommend a gallery floater frame. Acrylic shadowbox frames are also a great option for displaying on a shelf or gallery wall. This will be billed separately via invoice.
**This painting is fresh off the easel.  Please allow for 2-3 weeks of dry time before shipping. I will notify you when your painting is ready to ship. **
All sales are final.
PLEASE CONTACT ME WITH ANY QUESTIONS