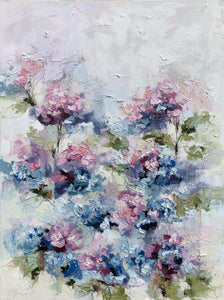 Title: "Endless Summer I"
Size:  40x30x1.5 Inches
Media: High Quality Professional Oil Paint and Graphite
Surface:  Gallery Wrapped Canvas
Finish:  Varnished, Edges Painted, Wired and Ready to Frame or Hang 
All sales are final.
Shipping: will be calculated at time of shipping and invoices separately.
Price includes black matte floater frame installed.
 ****AVAILABLE FOR PRESALE PURCHASE DIRECTLY THROUGH CHRISTIE YOUNGER. This painting was recently completed and will need time to dry. It is estimated that it will be ready to ship June or July, 2020.
PLEASE CONTACT ME FOR PURCHASE INQUIRIES.