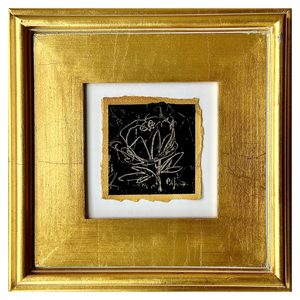 "Black Peony Sketch"
I am currently offering an unlimited number of orders. (These are original sketches  slight variations from pictured will occur.)
$250 (I've discounted these for this cause as well as included shipping) 100% of the proceeds will be donated to our local school's "Student Benevolence Fund" which provides immediate financial support to impoverished children to meet specific needs as they arise.
Size: 4 x 4 inches
Media: Acrylic and Graphite
Surface:  Acrylic in 140 Lb Arches Oil Paper
Finish:  edges torn, varnished, attached to mat board intended for float framing (as pictured).
Shipping: FREE within the USA. International shipping is available at cost and will be billed separately.
** Art does NOT come framed. Art will be attached to solid backing to aid in float framing. Simply glue onto solid mat board and remove glass. If you would like to frame your art as pictured you will need to purchase the frame here. You will need a 6x6 opening. You can purchase solid mat board and backing at Michael's. Simply glue or tape your art on top of mat board. That's it. It's really simple. I will provide a video demo if needed. 


These paintings will also be available locally at Fruit of the Vine Boutique, located on Main Street in North Wilkesboro, North Carolina. Local inventory is limited. Please reach out to them for inventory updates.